Shipping Explained
You can learn all about your shipping here.
Welcome to Storksey! Here we will walk you through how to set up your shipping.
First off, navigate to Store→Vendor Dashboard→Settings→Shipping. From here, you will see a list of shipping regions. You can can add the locations you choose to ship to by clicking on "Add Shipping Method" to the chosen region. If your region is not listed please Contact Us to see if we can help you.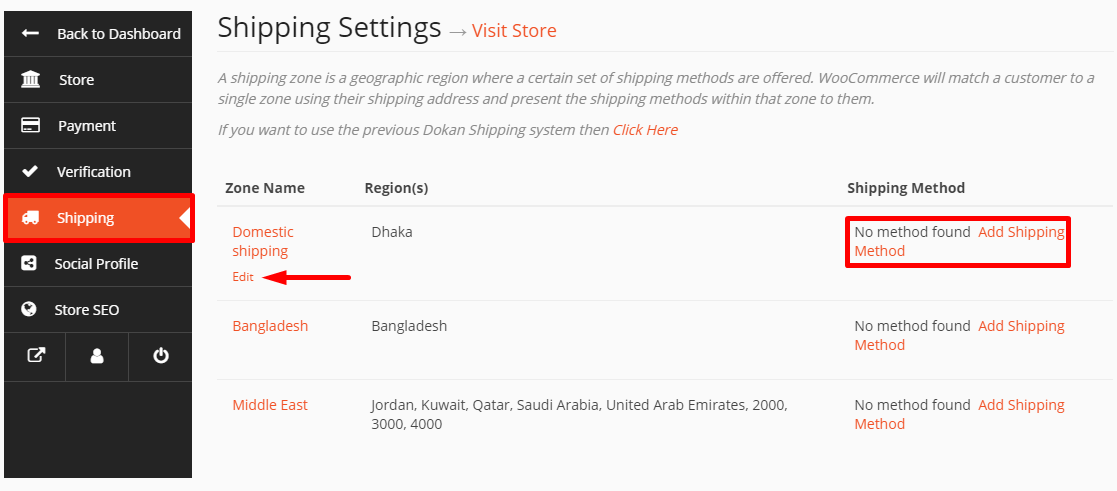 When you are editing a region you can set and limit shipping locations within each region (for example you can limit Europe to Germany, France and Belgium only or United Kingdom to London only). From here you can start adding the specific shipping methods you choose to use for that region (free shipping, first class, standard class, as well as additional fees  for large or fragile items.)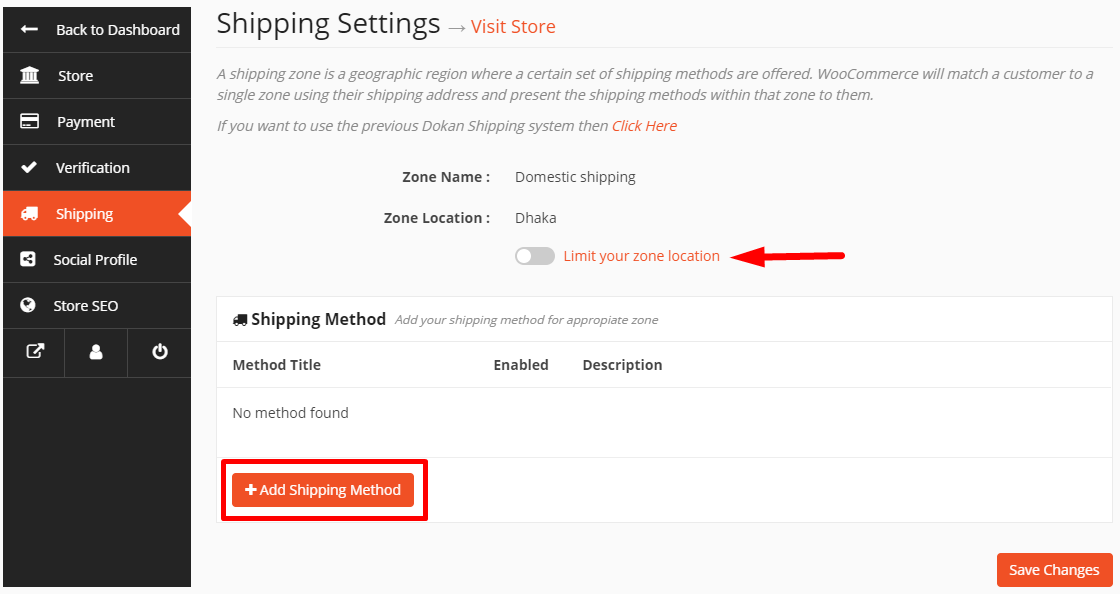 You can also set your own shipping policy and shipping lead times by clicking on the policy settings tab on the top right corner marked shown in the image below.

To add a shipping method select edit on your chosen region, and click on Add Shipping Method.  Select a shipping  option from the drop down.
Now, lets have a look at the different shipping methods in more detail!
Shipping Methods
1. Flat Rates
Each Shipping Zone can have multiple "Flat Rates" (First Class, Standard Shipping etc)
1. Once you have added the shipping method to add the required fees and specifications to the shipping click Edit.
2. You can change the title from "Flat rate" to "First Class" for example –  this title is what the customer will see in the shipping section during checkout
3. Next add the Cost for the flat rate.
4. Select its Tax Status (define whether or not tax is applied to the shipping amount).
5. Click on Save Settings.

Customer view at checkout: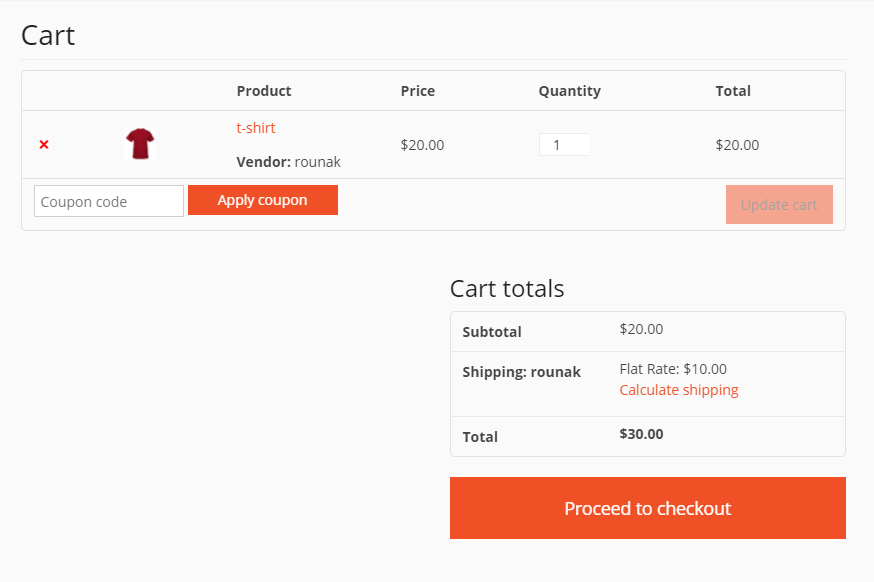 2. Shipping Classes
Within each flat rate you have the option to add additional fees for large or fragile packages. If you would like to ensure additional fees are added you can do so in "Edit Shipping Method" under "Shipping Class Costs". These extra shipping fees will only be added to a product once the classification is assigned to the product specifically when creating/editing a product (Go to "Edit Product" this is explained in more detail in point 3). If the product does not require additional fees then select "no shipping class" when creating/editing a product so that just the standard flat rate is applied.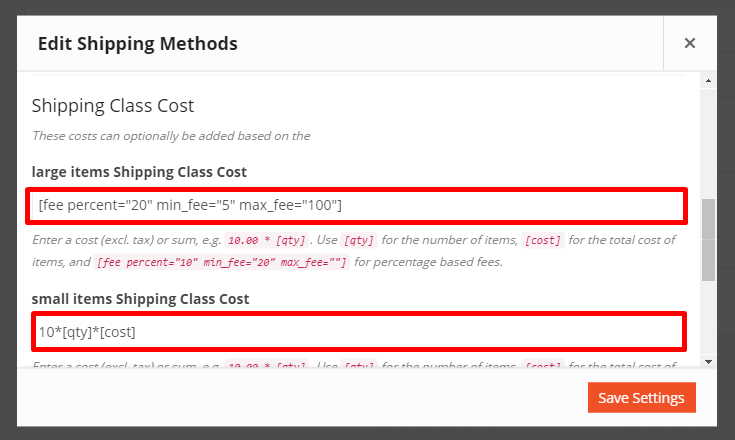 Select the cost when no shipping class will apply.
You can also select the Calculation Type:
Per Class: Shipping rates will apply accordingly class-wise.

Per Order: Shipping rates will apply on the total order cost, and the most expensive shipping class rate will apply.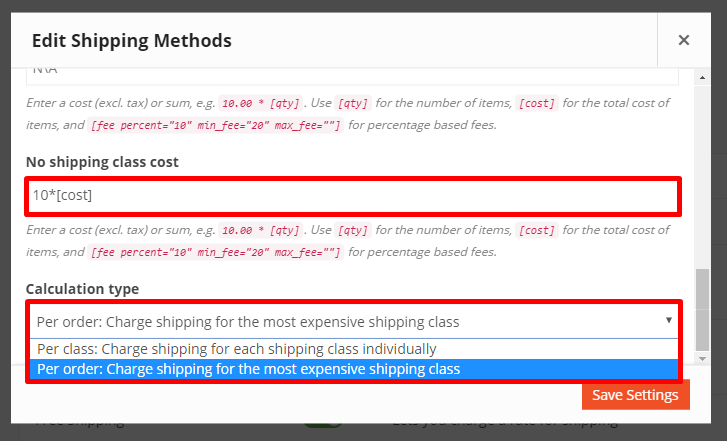 3. Adding a Shipping Class to a Product
Navigate to Store→Vendor Dashboard→Products.

Select the product you want to add shipping class to by hovering on the product name and click on Edit.

Scroll down to the section that reads Shipping and Tax.

4. First enable the checkbox "This Product Requires Shipping".
5. Next, input the details as required for weight, length, width and height.
6. Now select the shipping class you want to apply to this product from the drop-down. For example "Fragile Product". If no shipping class is required select "No Shipping Class"
7. Select Tax Status and Tax Class.
8. Click on Save Product.
Note: Each product can have one shipping class.

Cart View
How are the fees calculated at checkout?
If the Flat Rate and the Shipping Class have both been defined (in Edit Shipping Method) then both fees will apply when the customer is checking out.  For example, if you have set Flat Rate i.e  First Class at £10, and Precious Items Shipping Class Cost at an additional £5*[qty], and your customer checks-out a product that has been classified as a precious item, then the shipping cost will be £10 (flat rate)+£5(precious item)*[1](no. of precious items) = £15.